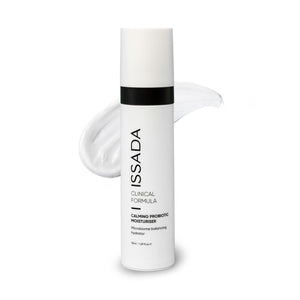 A light, innovative moisturiser with soothing qualities for skin prone to acne, redness or a sensitised/compromised skin barrier with Probiotic Lactobacillus to deliver healthy bacteria to the skin biome.
AGAVE NECTAR An emollient that helps to retain moisture and prevent loss of hydration, derived from the blue agave plant. Diminishes lines and wrinkles, anti-inflammatory, antimicrobial and works as a natural antiseptic. Softens the skin with a mattifying effect.
PROBIOTIC LACTOBACILLUS Acts as a natural broad-spectrum antimicrobial. Like Probiotics work for the stomach, they also soothe and balance upset skin. Delivers healing properties to calm and relieve dry, tight, sensitive, and irritated skin.
TASMANIAN BLUE GUM An Australian native plant that has been used for many years for anti-aging, skin brightening, anti-glycation, collagen and elastin support. Known to prevent acne due to antibacterial and anti-inflammatory properties.