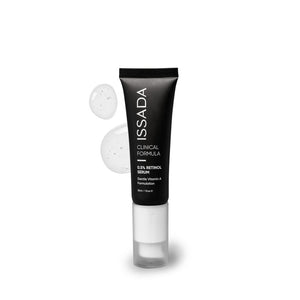 Retinol is an essential ingredient in any skincare regimen. Retinol is a form of Vitamin A, an ingredient that promotes skin renewal and enhances collagen production (which starts to decline in your late 20's).
This gentle-strength retinol is for daily use or anyone with ultra-sensitive, reactive skin and to prepare and strengthen the skin before advancing to 1% Retinol formula.
Retinol increases cell turnover, assisting in the management of acne and sun damage as well as decreasing the appearance of fine lines and wrinkles.

KEY INGREDIENTS Retinol (Vitamin A), Hylauronic Acid 
Apply a pea-sized amount to cleansed, dry skin nightly.
Layer with other Issada serums (excluding Vitamin C and Collagen Support) & follow with Issada moisturiser.